22 September 2014
Whiskey, You're The Devil
by
Liliana Hart
My rating:
3 of 5 stars
A fun, light read. Follows the pattern of a Janet Evanovich novel closely.
17 September 2014
Ursula, Under
by
Ingrid Hill
My rating:
4 of 5 stars
This book reminded me a bit of Away by Amy Bloom in its style of telling the story of a different character in each chapter while maintaining at least a slight connection with the central thread. It starts with a couple in the Upper Peninsula of Michigan losing their little girl, Ursula down an abandoned mine shaft. Then it tells each of their stories and those of their parents interspersed with stories of ancestors from various places and times before eventually looping back to the present.
I loved the way that the author develops each character and the little jolt of surprise I felt when she made the connection with Ursula and Annie and Justin, her parents. I also sensed a tip of the hat to Jane Austen when she lets us in on what might have happened if things had turned out differently...but didn't.
I picked this up at a used bookstore in DC a few months ago while wandering around town with my friend Molly. Good choice!
3 August 2014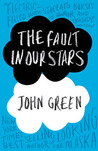 The Fault in Our Stars
by
John Green
My rating:
4 of 5 stars
A Long Way Home
by
Saroo Brierley
My rating:
4 of 5 stars
View all my reviews